Gujarat Chief Minister Vijay Rupani left Gandhinagar and visited Ahmedabad, the worst-hit corona-affected city in the State. Also, on April 4 when he inaugurated Gujarat-made ventilators at Ahmedabad Civil Hospital.
Now, it is an utter embarrassment for the Gujarat government because it has been revealed that what Rupani's friend from Rajkot donated and what was set up at Civil hospitals were not exactly ventilators. This utter embarrassment comes 15 days after these machines were fitted at several government hospitals in the state.
A senior bureaucrat told Ahmedabad Mirror, this is a serious matter. A chief minister passing off Ambu-bag as ventilators is not just criminal but reflects how everything runs in Gujarat government these days under the regime of Rupani.
The bureaucrat said this embarrassment of Chief Minister passing off his friend's contraption as the ventilator is being widely discussed and the High Command has been apprised of the CM's yet another blunder that puts Gujarat in a poor light.
However, CM remained unavailable for a comment when a leading daily contacted. But a bureaucrat close to him tried to impress upon the leading daily that the CM had never called them ventilators in the first place. When the media platform argued, the bureaucrat disconnected the phone.
His government press note clearly says that Vijay Rupani called these machines as ventilators.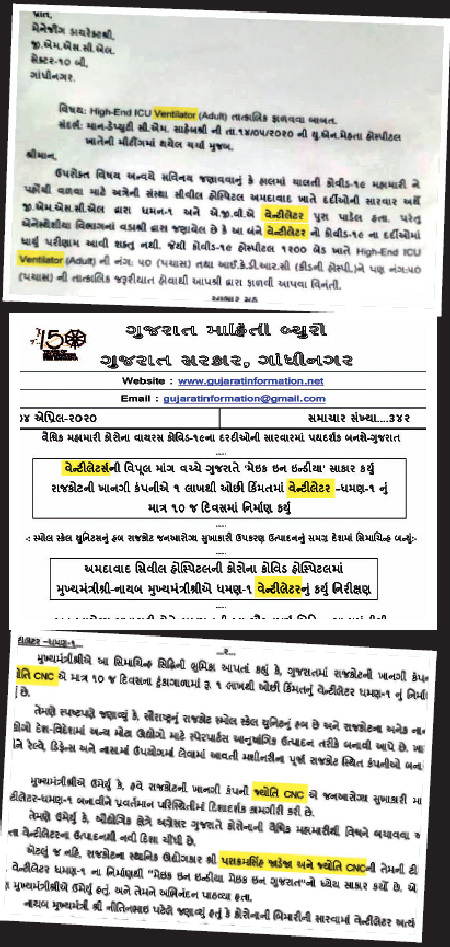 The press note clearly states, "Rajkot-based private company Jyoti CNC had developed the ventilator 'Dhaman-1' in a very short period of just 10 days. The manufacturing cost of 'Dhaman-1' is less than Rs 1-lakh per piece. This great achievement would add a new feather to Prime Minister Mr Narendrabhai Modi's dream campaign of 'Make in India'."
1800 pilgrims from Gujarat stranded in Haridwar return in 28 luxury buses amid lockdown