A viral message is doing rounds on social media which claims 'Nirbhaya' helpline number has been launched for women safety. The message has been forwarded in WhatsApp groups, texts, and many other platforms.
The viral post reads, "Send this *Nirbhaya* number to your wife, daughters, sisters, mothers, friends, and all the ladies you know..ask them to save it.. all the men please share with all the ladies you know….
In case of an emergency. Ladies can send blank msg or can give missed call..so that police will find your location and help u 🌹9833312222"
The above message has gone viral on social media. Several users have posted this message on Facebook over the past few days.
Check it out: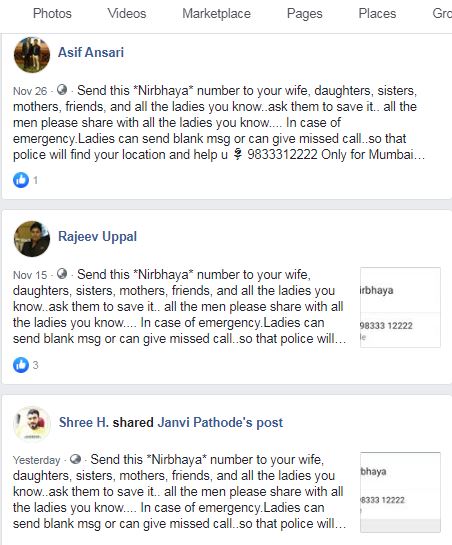 When a reverse check was done, it was found that the message had been circulated on Twitter in 2018 as well.
Fact check thereby revealed that the number is not functional now.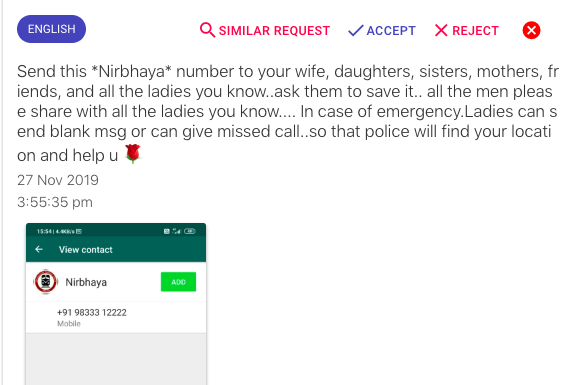 The mobile phone number which has been circulated by social media and WhatsApp users- 9833312222, was launched in 2015 by Government Railway Police (GRP). The helpline, however, was restricted to Mumbai. The number could be used by railway commuters to send messages, pictures or videos related to the issue of women's safety, via WhatsApp.
The number is not functional. It is no longer possible to send messages on WhatsApp to this number, as it is not listed on the messaging platform. This was confirmed by Mumbai Railway Police.

Final verdict:
The number is no longer operational. Earlier, an old, inactive helpline number for women was shared on social media as a fresh initiative by PM Narendra Modi.
Fact Check: Check the truth behind photos of Uddhav and Aditya Thackeray's visit to Ajmer dargah