Three Rajya Sabha Members of Parliament from Telugu Desam Party (TDP) resigned from the party on Thursday, June 20.  YS Chowdary, TG Venkatesh, and CM Ramesh resign from TDP, submit a resignation letter to M Venkaiah Naidu, Vice-President and Rajya Sabha chairman, in Delhi.
The meeting of the MPs with BJP President Amit Shah in New Delhi, a day earlier on Thursday triggered speculations that they may soon switch loyalties.
YS Chowdary, CM Ramesh, TG Venkatesh and G Mohan Rao called on Shah and expressed their willingness to join the BJP.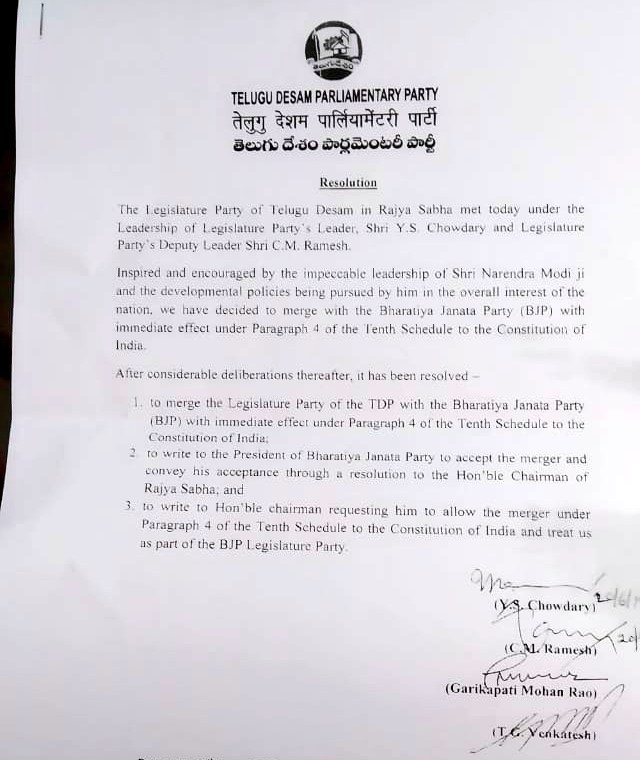 All 4 #TDP MPs submit resolution to @MVenkaiahNaidu informing about their will to get merged with @BJP4India pic.twitter.com/t0S8jcBKIu

— Aditi A (@AditiAnarayanan) June 20, 2019
The development may plunge the TDP into a crisis at a time when party President and former Andhra Pradesh Chief Minister N. Chandrababu Naidu is on a foreign trip along with family members.
Chowdary, a former central Minister, and Ramesh are considered close to Chandrababu Naidu. The two MPs had faced a series of searches by Income Tax, Central Bureau of Investigation (CBI) and Enforcement Directorate (ED) in recent months.