Amitabh Bachchan's Kaun Banega Crorepati season 11 is in full swing and now this season has got its third crorepati in Wednesday's episode.
Gautam Kumar Jha from Bihar was on a roll and won Rs 40,000 on Tuesday's episode and continue to be on the hot seat on Wednesday.
Gautam Kumar Jha hails from Bihar and has been staying with his wife in West Bengal's Adra for two years due to job transfer. He is a senior section engineer in the Indian Railways.
Gautam couldn't manage to answer the jackpot question of Rs 7 crore. He quit the game as he was not sure about the answer to the last question.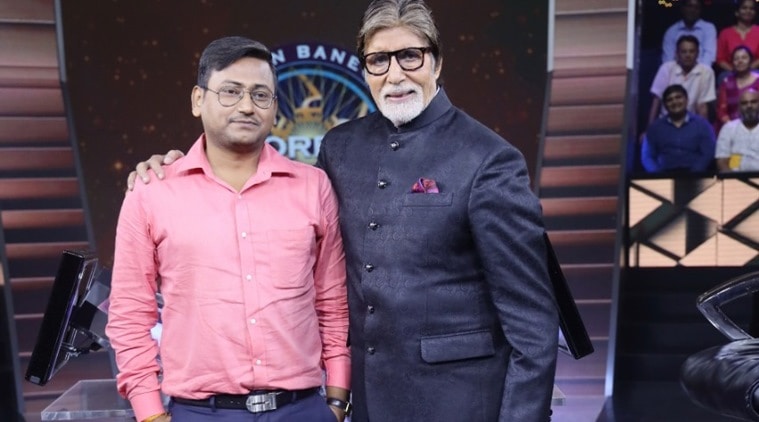 Here are the questions asked in the episode including the jackpot question in KBC 11:
In the eighth question, Gautam has to identify the image of the secretariat building in Kolkata.  He takes the audience poll. Gautam agrees with the audience poll.
The correct answer is Writers' Building.
Gautam takes his second lifeline in the ninth question. He takes the lifeline 'Flip the Question'. In the ninth question, Gautam was asked – According to the Shiv Purana, who died by jumping into the pyre of Yagya Kunda? The options were – Sati, Anasuya, Aditi, Arundhati. The correct answer was Sati.
During the tenure of which PM was Chhattisgarh created from Madhya Pradesh?
The correct answer is Atal Bihari Vajpayee.
Gautam was asked 'Which one of these planets has a solid surface?' The correct answer was Venus.
Gautam is asked – Which of the following persons has been bestowed with honourary Canadian citizenship? The options are – Dalai Lama, Akshay Kumar, Kailash Satyarthi, Mother Teresa. The correct answer is Dalai Lama and Gautam wins Rs 25,00,000.
Sonakshi Sinha gets mercilessly trolled after she fails to answer Ramayana related question in KBC
Gautam is asked – Which of these places in the Ramayana was ruled by Nishad Guha, who ferried Rama, Sita and Lakshamana across the Ganga? The options are – Pataliputra, Shringverpur, Kalhasti, Mahishmati. Gautam takes his last lifeline Ask the Expert. He locks the answer Shringverpur and wins Rs 50 lakh.
For the Rs 1 crore question, Gautam is asked – Aboard which made in India ship, did Francis Scott Key write the poem "Defence of Ford M'Henry' that became the US National Anthem? The options are – HMS Cornwallis, HMS Lindsay, HMS Clive, HMS Minden. Gautam locks HMS Minden and wins Rs 1 crore.
Gautam Kumar Jha quits the game at Rs 7 crore question
Jackpot question: The question was – What was the name of all the three soccer clubs set up with the help of Mahatama Gandhi in the early 20th century at Durban, Pretoria and Johannesburg? The options were – Truth Seekers, Non – Violents, Passive Resisters, Non co-operators. The correct answer was Passive Resisters.