Live Updates: 
4:45 PM
Madhya Pradesh Chief Minister Kamal Nath signs on the files for farm loan waiver
---
Madhya Pradesh: Show of opposition unity at Kamal Nath's swearing-in
Several opposition leaders were present at the swearing-in ceremony of Madhya Pradesh chief minister Kamal Nath today.
From left- DMK leader MK Stalin, Andhra Pradesh CM and TDP chief Chandrababu Naidu, Madhya Pradesh CM and Congress veteran Kamal Nath, NC leader Farooq Abdullah, Karnataka CM and JD(S) leader HD Kumaraswamy, Congress president Rahul Gandhi, JD(U) leader Sharad Yadav, Congress leader Jyotiraditya Scindia, senior Congress leader Mallikarjun Kharge, and Rajasthan CM Ashok Gehlot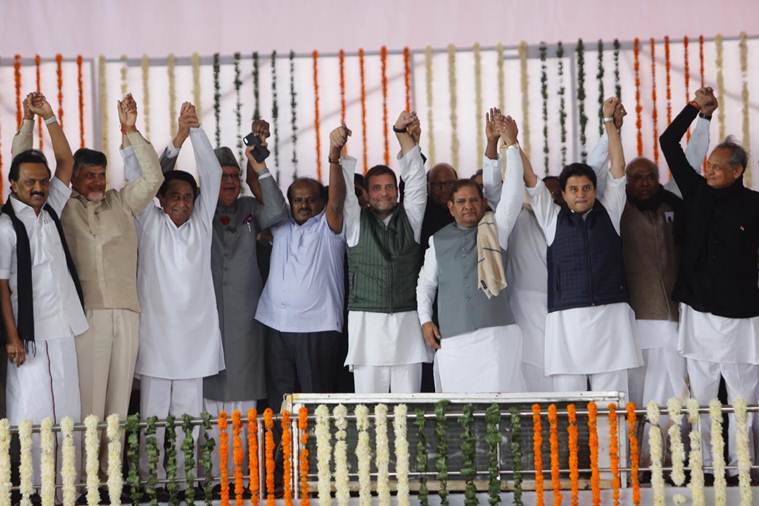 ---
Rajasthan Congress chief and deputy CM Sachin Pilot finally wears turban after five years. He has vowed not to wear the turban until Vasundhara Raje government is defeated.
.@SachinPilot finally wears the Turban after 5 years#SwearinginCeremony pic.twitter.com/vUmhT2fLYx

— Newsd (@GetNewsd) December 17, 2018
---
Rajasthan deputy CM Sachin Pilot's family at the swearing-in ceremony.
---
11:05 AM
Ashok Gehlot sworn is as Chief Minister, Sachin Pilot takes oath as State's Deputy Chief Minister, at Jaipur's Albert Hall
---
List of leaders attending the oath taking ceremony
Among those likely to attend the ceremonies are frontline leaders of the grand alliance like HD Devegowda, HD Kumaraswamy, Farooq Abdullah,Tejashwi Yadav, Sharad Yadav.
Andhra Pradesh CM N Chandrababu Naidu is likely to make it to all the three events.
The Congress has also extended an invitation to the Aam Aadmi Party (AAP) to attend the ceremonies. As per the reports, senior AAP leader Sanjay Singh will attend Gehlot's swearing-in ceremony in Jaipur.
---
10:10 AM | Rahul Gandhi reaches Jaipur
Congress President Rahul Gandhi and former Prime Minister Manmohan Singh have arrived in Jaipur for the swearing-in ceremony.
---
09:45 AM | Akhilesh, Mamata, Mayawati to skip the ceremony
West Bengal Chief Minister and Trinamool Congress chief Mamata Banerjee, BSP supremo Mayawati and SP's Akhilesh Yadav will not attend the swearing-in ceremonies of Congress chief minister-designates Kamal Nath, Bhupesh Baghel and Ashok Gehlot.
---
Gehlot, Pilot to swear-in at 10AM
Ashok Gehlot and Sachin Pilot will be sworn in as the Chief Minister and Deputy Chief Minister of Rajasthan today at 10 AM at the historic Albert Hall in Jaipur.
After a victorious win in three states and long days of suspense, for Madhya Pradesh, veteran leader Kamal Nath has been named as the CM candidate. In Rajasthan, where the selection went down to the wire, Ashok Gehlot will take oath as the CM for his third stint in office along with deputy CM Sachin Pilot. Bhupesh Baghel was announced as the CM candidate for Chhattisgarh on Sunday.
Bhupesh Baghel, Kamal Nath and Ashok Gehlot will be sworn-in as the new Chief Ministers of Chhattisgarh, Madhya Pradesh and Rajasthan, respectively today. Gehlot will be sworn-in at 10.00 AM in Jaipur followed by Nath at 1.00 PM and Baghel at 4.00 PM.
In Rajasthan, the Congress won 99 out of 199 seats, ousting the ruling Vasundhara Raje-led BJP government.
In Madhya Pradesh and Chhattisgarh, the BJP lost power after 15 years. The Congress won 114 seats in the 230-member Madhya Pradesh Assembly and has the support of seven MLAs from the BSP, one from the SP and four Independents.
In Chhattisgarh, Congress romped to power with a huge mandate after winning 68 seats in the 90-member House.