On the day of Holi i.e. on Tuesday evening, student JDU leader Kanhaiya Kaushik was shot dead in Patel Nagar of Shastri Nagar police station area of ​​Patna. A friend of his was also shot, who is admitted to the hospital in an injured condition.
The police have arrested two youths in this case, but the main accused Kush is still out of the reach of the police.
After the incident, DSP Rajesh Singh Prabhakar, who was engaged in the investigation, said that the body of the student JDU leader has been sent for postmortem. Awaiting postmortem report, the investigation is on and convicts will be arrested soon.
According to the information, the cause of the incident is said to be the name of the accused on the poster released for Holi. After this incident of murder, there has been a panic in the police department.
Accused Kush is absconding since the incident. Police have been raiding since Tuesday night for Kush's arrest. Police have so far detained two students, who are being questioned.
It is being told that the poster printed at a function of Holi Milan celebrations did not have the name of a youth named Kush, while Kanhaiya Kaushik was named in the same poster. Kush was angry with Kanhaiya about this. According to Kush, Kanhaiya removed his name from the poster.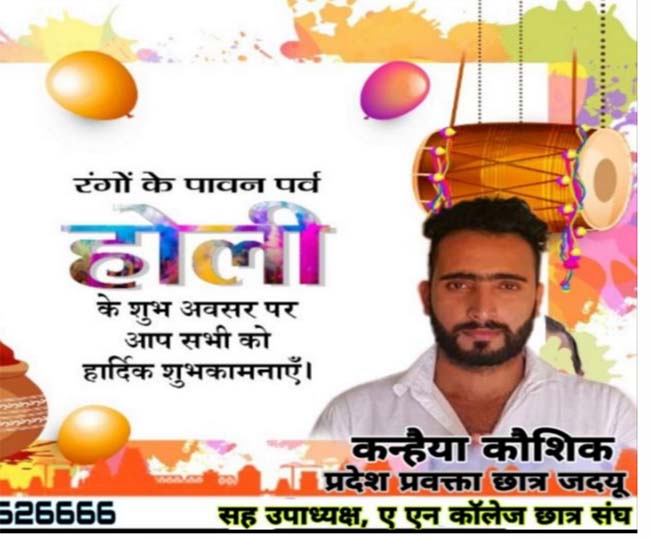 On this issue, there was a fight between Kanhaiya and Kush on Tuesday, after which Kanhaiya filed a written complaint against Kush on the advice of friends at Srikrishnapuri police station.
When Kush came to know about this,  he conspired to kill. He called him to Patel Nagar to compromise with Kanhaiya. When Kanhaiya reached the spot with his friend Chandan, both of them were shot.
Bihar: Funny TikTok video spreads kidnapping hoax in Muzaffarpur