Jharkhand Assembly Election Results LIVE UPDATES:
Congress CLP leader Alamgir Alam wins by 50,000 votes, biggest victory margin in Jharkhand Assembly Election
---
Lambodar Mahto of AJSU Party has won the Gomia  seat. He defeated Babita Devi of Jharkhand Mukti Morcha by 10,937 votes. Mahto wrested the seat from JMM whose candidate Yogendra Prasad had won the seat by 37,514 votes in 2014.
---
Dedicate win to people of Jharkhand: Hemant Soren
JMM chief Hemant Soren thanked West Bengal chief minister Mamata Banerjee, and said that he dedicates the win to the people of Jharkhand. The JMM-led alliance appears likely to win a majority on its own.
---
BJP's Nilkanth Singh Munda wins from Khunti
Nilkanth Singh Munda of the Bharatiya Janata Party has won the Khunti Assembly constituency. He defeated JMM's Sushil Pahan by  a margin of 26,327 votes. As per latest trends, BJP has won two seats and is leading in 25 seats; JMM is leading in 29 seats.
Munda has increased its winning margin since the 2014 Assembly election when he had won the seat by 21,515 votes.
---
JMM's Hemant Soren is leading from Barhait assembly constituency by a margin of 11,668 votes and from Dumka seat by 2,750 votes
---
Mahua Majhi of JMM is ahead by 2,238 votes in Ranchi against CP Singh of BJP
---
"I will remain as an independent candidate and support or oppose the policies of government on its merit," says Saryu Roy, who is leading Raghubar Das from Jamshedpur (E) by close to 6,000 votes
---
Kunal Sarangi jumped to BJP from Jharkhand Mukti Morcha before the polls, now he is trailing by 38k votes to JMM.
---
Congress MLA Manoj Yadav from Barhi switched to BJP before the election, now he is trailing to Umashankar Akela of Congress with over 10,000 votes.
---
Former Jharkhand Congress president Sukhdeo Bhagat who joined BJP is trailing to current Congress president Rameshwar Oraon with over 16,000 votes in Lohardaga
02:40 PM | Wait for the final results, BJP will decide if support of AJSU, JVM is required: Arjun Munda
---
CM Raghubar Das is now trailing by 771 votes in Jamshedpur East in a close contest against Independent candidate Saryu Roy
---
01:25 PM | AJSU's Sudesh Mahto now leading in Silli seat by 10,400 votes
---
First result declared, Congress candidate Rajendra Singh wins from Bermo
---
Five seats, including Silli, Mandar, Nirsa, Simaria, Littipara, Dhanwar and Bishnupar, are witnessing a tough battle among its candidates with a difference of 500-1000 votes.
---
11:30 AM | We will analyse later if going alone in the state polls was a right decision: Former Jharkhand CM and BJP leader Arjun Munda
---
Congress candidate Dipika Pandey Singh leading by 3600 votes from Mahagama assembly seat.
---
10:45 AM | AJSU chief Sudesh Mahto trailing in Silli
---
At 10 am, ECI trends forecast a BJP lead at 22 seats out of 62 for which trends are declared 
The Election Commission has updated trends for 62 seats in the Jharkhand assembly polls and the trends suggest that the Congress-JMM-RJD alliance is leading on 33 seats, the BJP on 22 and the AJSU on two.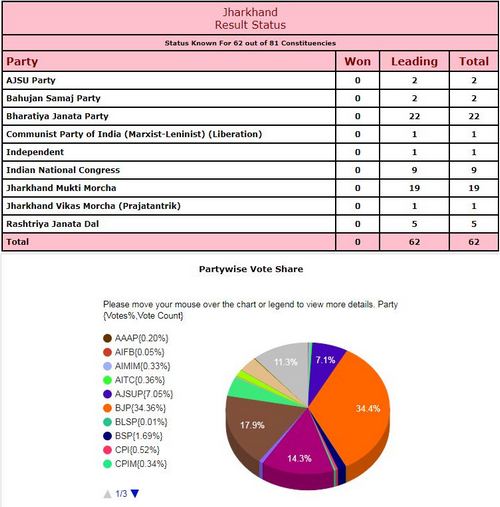 10:00 AM | Sanjay Prasad Yadav of RJD leads over BJP's Amit Kumar Mandal by 3,315 votes in Godda seat
---
BJP's Menka Sardar leads over Sanjib Sardar of JMM by 5,144 votes in Potka seat
---
09:20 AM | CM Raghubar Das ahead of Saryu Rai by 540 votes in Jamshedpur East.
---
BJP's Raghubar Das (Jamshedpur East): Leading
JVM's Babulal Marandi (Dhanwar): Leading
JMM's Hemant Soren (Dumka): Leading
JMM's Hemant Soren (Barhait): Leading
AJSU's Sudesh Kumar Mahto (Silli): Leading


---
08:42 AM | Latest Trends – Leading AJSUP – 3 BJP – 23 INC – 12 IND – JD(U)- JMM – 24 JVM(P) – 3 RJD – 2 OTHERS – 4
---
08:40 AM | Among the prominent candidates are Chief Minister Raghubar Das from Jamshedpur East, the chief ministerial candidate of the opposition JMM, Congress, RJD alliance Hemant Soren from Dumka and Barhait and former chief minister Babulal Marandi, also the president of Jharkhand Vikas Morcha (Prajatantrik), from Dhanwar.
---
Jharkhand Mukti Morcha (JMM) leader and the Chief Ministerial candiadte of the opposition coalition Hemant Soren is leading in Dumka.
The counting of votes for 81 Jharkhand Assembly seats, which went to polls in five phases from November 30 to December 20, began on Monday, December 23. Altogether 40,05,287 electorate, including 19,55,336 women and 30 third-gender voters, were found eligible to cast their vote in the Jharkhand assembly election.
Currently, the Bharatiya Janata Party is in power in the state and the halfway mark to form government is 41. The contest in Jharkhand is between the BJP, the Congress and state parties like the Jharkhand Mukti Morcha, Jharkhand Vikas Morcha and the All Jharkhand Students Union.
The hot seat, which will be the centre of attraction on the counting day will be Jamshedpur East. Chief Minister Raghubar Das has been winning this seat since 1995. He is pitted against ex-cabinet colleague Saryu Rai. Saryu Rai turned rebellion after his ticket was put on hold by the party.
The other important seats are Dumka and Barhet from where JMM Executive President and former Chief Minister is contesting. He is pitted against Social Welfare Minister Louis Marandi at Dumka.