Kangana Ranaut and Rajkummar Rao starrer 'Judgemental Hai Kya' has been in the news even before the film released. Earlier the film was in trouble because of the title which was earlier named as 'Mental Hai Kya'
The film faced flak after the song launch in Mumbai when lead actor Kangana Ranaut got into a heated debate with a journalist and accused him of running a smear campaign that led to media ban.
Now in a recent development, the film has come under the fire of plagiarism.
Hungarian artist Flora Borsi accused the makers of Judgementall Hai Kya of copying her work without her permission. She also alleged that the makers of the movie neither asked for permission nor reached out to her.
The artist shared a collage of her original art piece on social media along with Kangana's poster from the film and the posters appeared to be similar.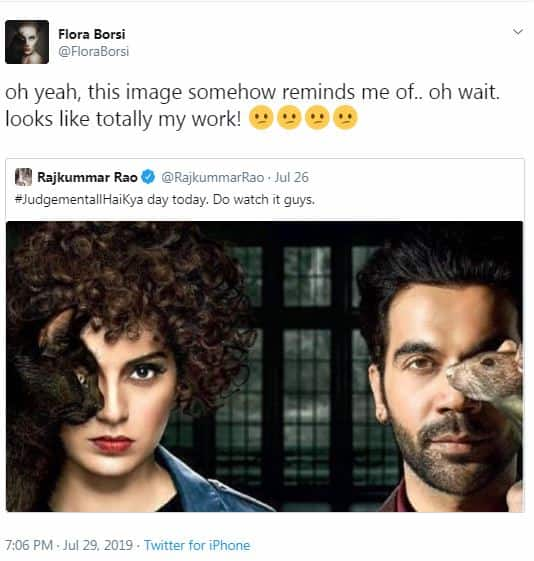 She wrote "This movie poster plagiarised my art! Could someone explain what's happening, please? This is not right. #JudgementallHaiKya @balajimotionpic @sheenagola ??" She also retweeted one of Rajkummar Rao's tweet and wrote, 'Oh yeah, this image somehow reminds me of.. oh wait. looks like totally my work!'
Dear @ektakapoorworld @KanganaTeam, it's a humble request to both of you check entire teams work. In your latest movie #judgementalhainkya doing good business, but its utter shame to steal another photographer's work without seeking her permission.
pic courtesy @FloraBorsi pic.twitter.com/Y8l8Tpr4zZ

— Subinoy Das (@dsubinoy) July 29, 2019

The makers of the film are yet to respond to the allegations made on them by the artist.
The story doesn't end here, the artist went on sharing another poster that appeared to be copied.
I just found out I'm not alone in this as an artist..
made a little research. #JudgementallHaiKya pic.twitter.com/59mCVo0Rsl

— Flora Borsi (@FloraBorsi) July 30, 2019
Kangana Ranaut confirms title change for 'Mental Hai Kya' as CBFC finds it harsh