With each passing day, some or the other shocking revelations has been coming to fore in the Sushant Singh Rajput's untimely demise. After the late actor's father filed an FIR against Rhea Chakraborty and her family, the case has now been handed over to the CBI and the probe for the same is underway.
Today, the Supreme Court hearing for Rhea Chakraborty's petition is slated to take place and it looks like Sushant's father KK Singh is going to present some hard-hitting evidence, at least that's what Times Now's a piece of latest report hints at.
The news portal has now disclosed KK Singh's alleged messages to Sushant's GF Rhea and his former manager Shruti Modi.
The WhatsApp messages in question were sent during November 2019 and were about Sushant's father KK Singh expressing concern about his son's well-being. He tried to enquire Rhea about Sushant's health, while to Shruti, he asked for a flight ticket to Mumbai so that he could meet Sushant.
"Jab tum jaante ho ki main Sushant ka papa hoon toh baat kyon nahin ki. Aakhir kya baat hai. Friend ban kar uska dekhbal aur uska ilaj karba rahi ho toh mera bhi farj banta hai ki Sushant ke baare mein saari jaankari mujhe bhi rahe. Esiliye call kar mujhe bhi saari jaankari do.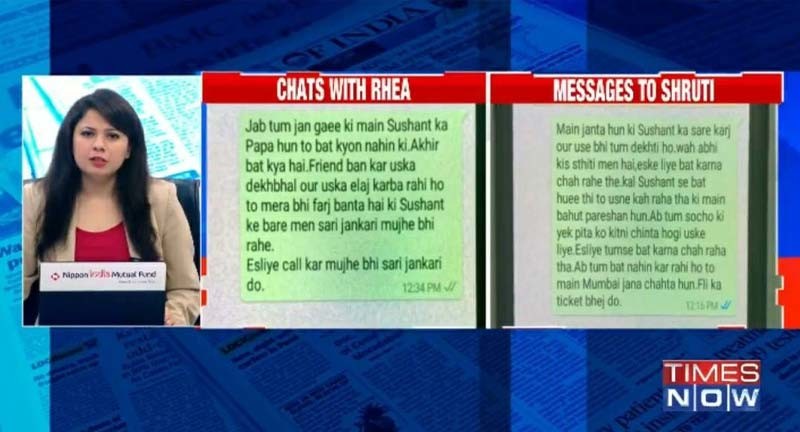 To Shruti Modi, he wrote, "Main jaanta hoon ki Sushant ke saare karj aur usse bhi tum hi dekhti ho. Woh abhi kis stithi mein hai, eske liye baat karna chah rahe hai. Kal Sushant se baat hui thi toh usne kaha tha ki main bahut pareshan hoon. Ab tum socho ki yeh pita ko kitni chinta hogi uske liye. Esiliye tum se baat karna chah raha tha. Ab tum baat nahi kar rahi ho toh main Mumbai jaana chahta hun. Flight ki ticket bhej do
As per Times Now, these chat screenshots will be presented in the Supreme Court hearing today.
Sushant Singh Rajput demise: IP address of company owned by SSR, Rhea and Showik changed several times after actor's death