Bollywood actor Malaika Arora is one of the fittest actors in the Bollywood industry and many times she has proved that she is aging backward. Malaika Arora celebrates her birthday today, October 23 and after 6 years, she is celebrating it in Mumbai with her close friends and family.
Malaika Arora hosted a birthday bash at a five-star hotel on Tuesday night
Here are the pictures from the star-studded birthday bash: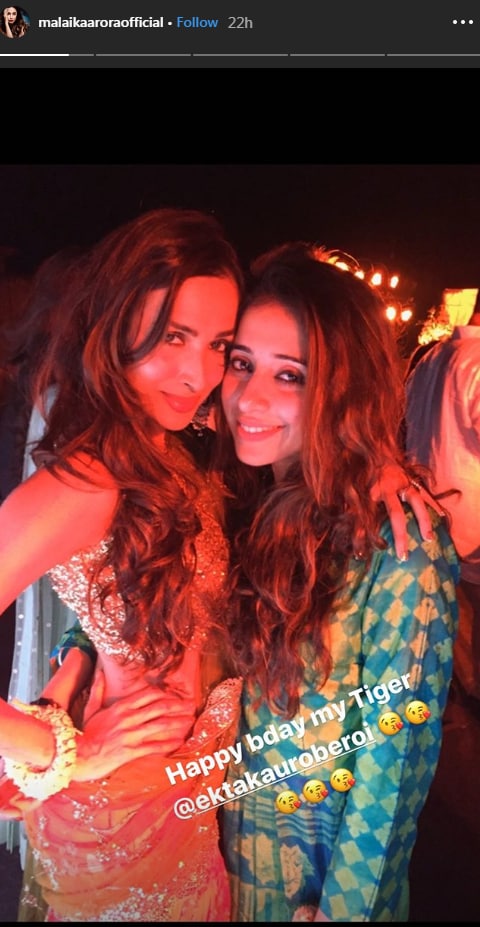 View this post on Instagram
View this post on Instagram
As the actress turns a year older, there has been a lot of wishes pouring in for her but what also caught our attention was that there has been confusion over the age of the actress. Also, some media outlets have mentioned her age to be 44 while others have cited 46 in their respective reports.
The netizens are also in splits over the age of the actress as they pour their wishes out to her
Check out the conflicting posts:
Happy Birthday #MalaikaArora kuch v bolo yrr es age me itna fit rhna aise hi thori na @arjunk26 fida h.duniya ke liye ek saal badi PR arjunkapoor ke liye 2 saal or ghat gya age 🤣🤣.

— Piyush Kumar Tiwary (@CksPiyush) October 23, 2019
In other news, #MalaikaArora just turned 18.

— Noyon Jyoti Parasara | নয়ন জ্যোতি পৰাশৰ (@NoyonSENSE) October 23, 2019
Malaika dances her heart out as she turns 46!😍😍
.
#delhidiaries #mumbaidiaries #malaikaarora #malaikaarorakhan

.
.
.
.
.
.
.
.
.
.
.
.
.
.
.

Follow – @kumarr_raj
:
:#AliaBhatt #DeepikaPadukone
#rheakapoor… https://t.co/BAONgoa862

— Kumar Raj (@kumarr_raj) October 23, 2019
#MalaikaArora looks hot in this silver dress…she is seen celebrating her 45th birthday with her family and friends #HappyBirthdayMalaikaArora pic.twitter.com/bb5hfRmR7w

— Richa Barua (@Barua007) October 22, 2019
#MalaikaArora wears a mirror-dress at her 46th birthday party and looks like a vision.https://t.co/hpC5dIBw0y

— India.com (@indiacom) October 23, 2019
#MalaikaArora is celebrating her 44th birthday today. Here are the photos from her last night birthday party that saw a host of Bollywood celebs. #ArjunKapoor #KareenaKapoorKhan #KaranJohar https://t.co/XD3NbtSaeR

— India.com (@indiacom) October 23, 2019
While a lot of reports are being circulated with different age of the actress, but her age still remains a mystery. Newsd tried contacting Malaika Arora's team for a confirmation, but they remained unavailable.
No matter the age, Wishing the gorgeous Malaika Arora a very happy birthday!
Malaika Arora reacts on being part of Dabangg 3, says 'Everyone involved with project has moved on'