New Delhi: A bizarre incident has come to light in the advertising department of the Delhi government. There is a rumor of evil spirits camping there these days. The employees are in such a panic that they are not coming to the office. A notice has been posted at the gate to prevent the alleged evil spirits.
According to the information received, these notices have been placed at the behest of the director.
The humor of this department, which was set up to remove the advertisements of the Delhi government, now has a comic notice on it. It is written that there is no entry of evil spirits there. Seeing this one remembers the Bollywood film 'Stree', in which 'O Stree Kal Aana' was written to prevent evil spirits.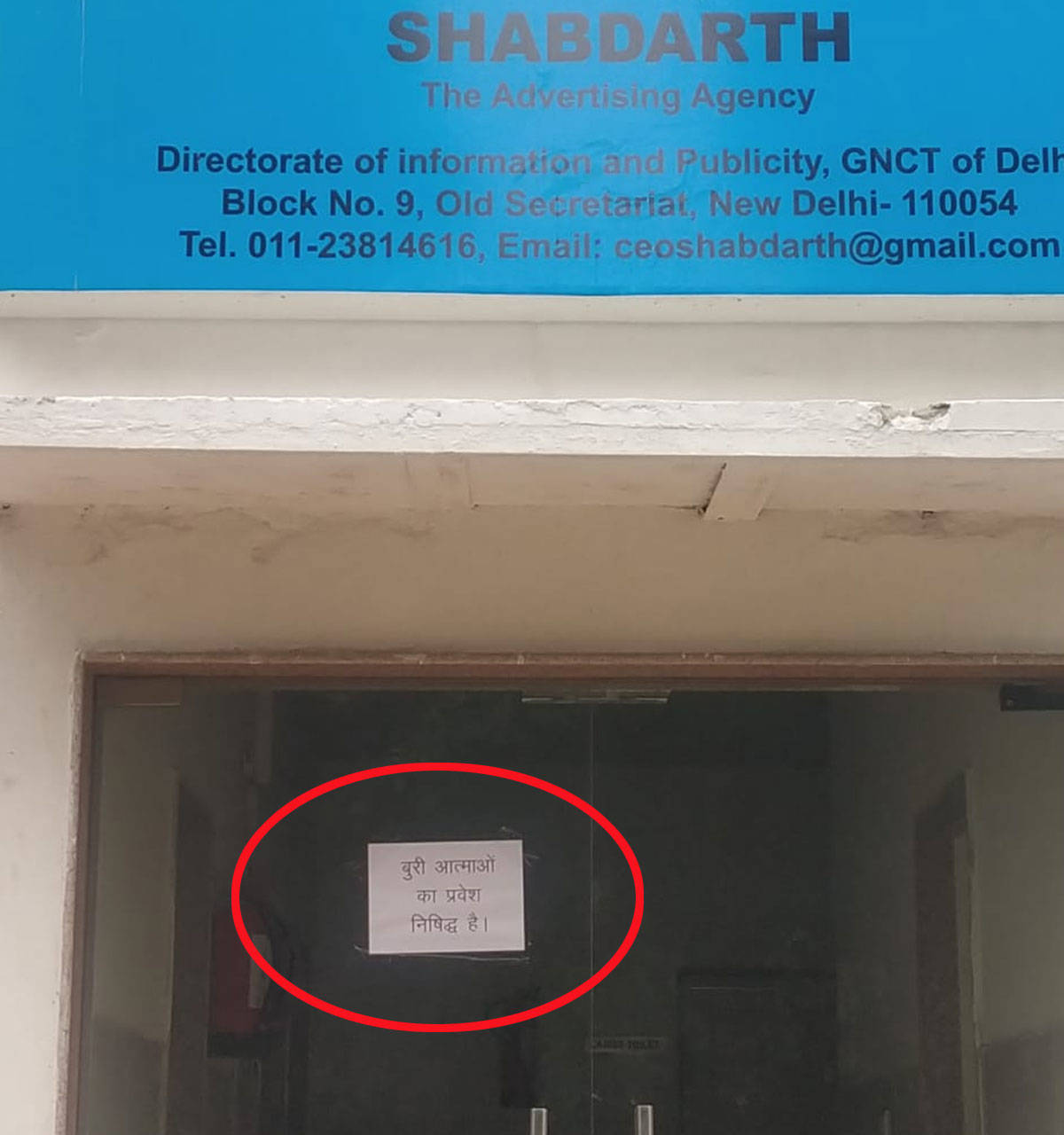 Delhi's Directorate of Information Publicity is in full swing for the shadow of evil. According to the information received, recently an employee has died there. One officer has suffered a heart attack. Currently, many people are on medical leave. This notice was now pasted at every door to end the fear of the employees.
After the news came out, Bharatiya Janata Party (BJP) leader Kapil Mishra targeted the Arvind Kejriwal government.
He wrote, 'This is the office of the advertising department of the Kejriwal government. There is an atmosphere of fear in this department which falsely advertise and break the law openly. Notices are placed on the office gate – the entry of evil spirits is prohibited. Many employees are ill, on leave and one employee has also died.
ये हैं केजरीवाल सरकार का विज्ञापन विभाग का ऑफिस

झूठे विज्ञापनों और कानून को खुलेआम तोड़ने वाले इस विभाग में डर का माहौल हैं

कार्यालय के गेट पर नोटिस लगा हैं – बुरी आत्माओं का प्रवेश निषिद्ध हैं

कई कर्मचारी बीमार हैं, छुट्टी पर हैं और एक कर्मचारी की मृत्यु भी हो चुकी हैं pic.twitter.com/J1kYSh5rC6

— Kapil Mishra (@KapilMishra_IND) December 12, 2019

Madhya Pradesh: Groom puts "Modi Again 2019" mehendi for wedding, Shivraj Singh Chouhan congratulates