New Delhi: Muslims all across the world celebrate this auspicious festival Eid ul-Fitr every year. There are various dishes, friends, family and parties to celebrate. It is believed that the Prophet Muhammad received the first revelation of the Qur'an this month.
Eid ul-Fitr is expected to start in the evening of May 23 and ends on May 24. However, the date may change due to sight of the moon,
Every year, the dates of Ramadan and Eid change according to the Muslim calendar based on the moon phase. Eid ul-Fitr is not only a time for celebrations, parties and feasting but also to remember Allah and thanks him for the power he has given to a successful Ramadan. This day also offers Zakat or charity to share happiness with less opportune. Ramadan is the time for spiritual reflection and bringing it to the divine.
In order to send good wishes and messages to your friends and family, we have compiled some wishes, images, quotes, Urdu Shayari, and greetings of the festival here.
Eid ul-Fitr 2020: Wishes
May the festival of Eid bring lots of joy and happiness into your life. Have a blessed Eid al Fitr.
May Allah bless you the with the gifts of kindness, patience, love and truthfulness. May you get what you are seeking. Eid Mubarak.
May Allah guide you on a righteous path always. May the light always steer you in right direction. Have a wonderful Eid.
May you have a great time with your friends and family and you share your heart out. Eid Mubarak.
Aapke jeevan mein Eid ke khush haal rang hamesha barkarar rahein. Eid Mubarak
Eid ul-Fitr 2020: Messages
Eid is the time for sharing, caring and merry-making. With sweet puddings and delicacies, have a grand feast of togetherness. Have a wonderful Eid. Eid Mubarak.
Eid is an auspicious time. A time to forgive, a time to reflect and a time to amend. May Allah bless you with wisdom and kindness. Eid Mubarak.
Eid is the momentous opportunity of getting together. After purifying one's body during the fasting period, it's time to share the learnings with your loved ones. Have a great time! Eid Mubarak.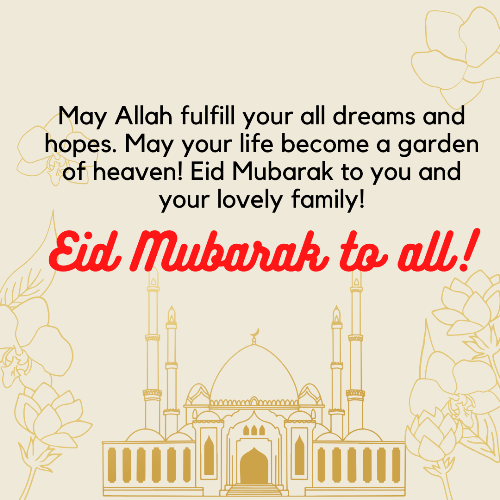 Eid is here. May you have a fantastic time with your loved ones. Eid Mubarak!
Chupke se chaand ki roshni chhu jaye aapko, dheeray se ye hawa kuch keh jaaye aapko, dil se jo chaahte ho maang lo khuda se, hum dua karte hain mil jaye wo aapko! Eid Mubarak!
Eid ul-Fitr: WhatsApp Stickers
Since WhatsApp is a widely used instant messaging application, people can send festival greetings and birthday wishes on the same platform. You can use the same medium to send Eid WhatsApp Stickers, which can be easily downloaded from PlayStore.
Eid Mubarak Shayari
Kuch Musarrat Mazeed ho jaye, Is bahanese Eid ho jaye, Eid milne jo Aapaajayein, Meri bhi Eid, Eid ho jaye. Ramadan Eid Mubarak 2020
Ramzan may na mil sakey, Eid may nazrein he milaa Loo. Haath milaney se kya hoga? Seedha galey he lagaa Lo! Eid Mubarak!
Allah ki rehmat chaayi hai, Khushiyan kitni laayi hai, Qayamat ne baat dohrayi hai, Dekho phirse eid aayi hai. Eid Mubarak!
Saal Mein 1 Baar Aati Hai Eid, Khushiyan Hazar Lati Hai Eid, Momin Ke Liye Tohfa Hai Eid, Bachchoo Ke Liye Eidi Hai Eid, Allah Ki Ata Or Inam Hai Eid, Hr Aik Ko Mubrk Ho Ye Pyari Si Eid.
Zindegi ka her pal khushiyon se kam na ho, aap ka her din eid ke din se kam na ho, aisa eid ka din apko hamesha naseeb ho! Eid Mubarak!
Suhani dhoop barsat k baad, Thori si hasi her baat k baad, Usi tarah ho mubarak aap ko, Yeh EID Ramadan k baad. EID Mubarak
Eid leke aata hai dher saari khushiyan, Eid mita deta hai insaan me dooriyan, Eid hi khuda ka ek nayam tabarok, Isiliye kehte hai sab Eid Mubarak!
 Socha Kisi Apne Se Baat Karun, Apne Kisi Khaas Ko Yaad Karun, Kiya Jo Faisla Eid Mubarak Kehne Ka, Dil Ne Kaha Kyun Na Aapse shuruwat Karun. EID MUBARAK
Dosto Chupkay say chand ki Roshni Choo Jaye Apko, Dheeray Say Ya Hawa Kuch Keh Jaye Apko, Dil Say jo Chahtay Ho Maang Lo Khuda Say, Hum Dua Kartay Hain Mil Jaye Wo Apko! EID MUBARAK.
Read: Eid al Fitr 2020, Moon Sighting Date in India: Which day is Chand Raat? Eid Greetings