The results of the JD Power 2017 India Sales Satisfaction Index, for the mass market, are out and like every such study, it gives us all a reality check. This time around it is the home-grown automaker Mahindra that has topped the charts, with 866 points; followed by last year's winner, Toyota, at 856; and Ford, that has jumped seven places from 2016, at 846. The points are given on a 1,000-point scale and various parameters like sales initiation, dealer facility, delivery timing etc are part of the evaluation process.
Here's the bifurcation of weightage given to six different factors that contribute to overall customer satisfaction for a new vehicle purchase – sales initiation (17 per cent); dealer facility (17 per cent); deal & paperwork (17 per cent); delivery timing (17 per cent); salesperson (16 per cent); and delivery process (16 per cent).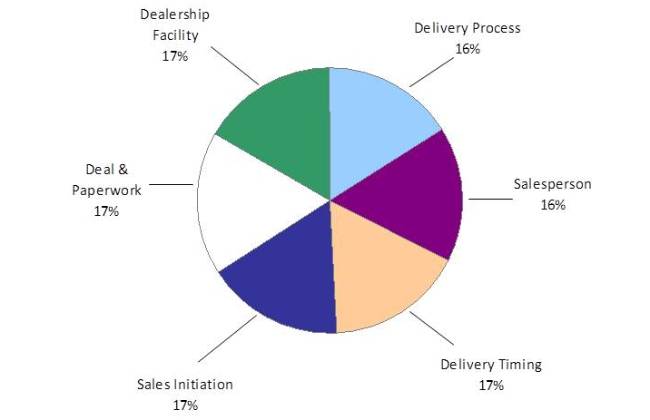 The 2017 study was conducted on responses from 7,831 new-vehicle owners who purchased their vehicles between September 2016 and April this year. Based on those responses, there are a number of eye-openers. Here's the gist of them:
Compared to last year, the overall sales satisfaction index for the industry has jumped up by 31 points
49 per cent of new car buyers in India researched for vehicles online, up from 34 per cent last year
Almost half of customers who researched online for new vehicles seriously considered other models before finalising. That's 19 per cent higher than those who gathered information either by visiting showrooms or via word of mouth (30 per cent)
More than 58 per cent of customers who researched online were younger than 35 years of age
The median age of those who used the internet was two years less than those who did not
80 per cent of customers who used the internet were university graduates, compared to 66 per cent of those who did not
The average income of those customers who used researched online was 20 per cent higher than those who relied on other means of gathering information
Pressure from salespersons on customers during the buying process has declined by 4 per cent, when compared to 2016, to 37 per cent
Satisfaction in dealer facilities improved by 5 per cent as compared to 2016. Customers responded by saying that dealers offered all amenities measured, including WiFi access, comfortable seating and product brochures, among others
Want to see where your carmaker came this year? Refer to the graph below.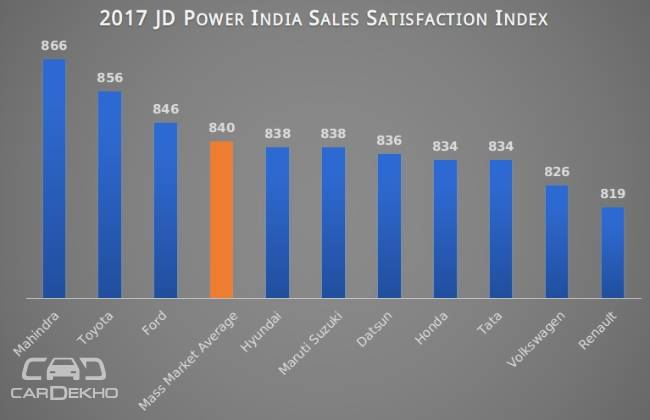 Based on these results, many will realign their thought process for their next car purchase, while several others might find fault with the small sample size for this study. Sure, that number gives a good platform for some number crunching. But in a country like India, where the cumulative sales figure of the top 10 bestselling cars in a month averages around 1.1 lakh, the sample size for this study isn't large enough to have a substantial impact. What do you think?
Source: CarDekho.com