After an armed group of men attacked the students and the teachers on the JNU campus, the netizens and Bollywood celebs were left shocked about the violence at the university.
Bollywood actress Swara Bhasker was one of the industry people who condemned the act severely and even tweeted a video message about the same. She broke down to tears as she urged everyone to gather and demand a halt on mob violence.
Now mid all this, a new controversy has erupted where Dream Girl director Raaj Shaandilyaa and Swara got into a heated exchange.
The filmmaker wrote a distasteful post on Facebook that read as, "sasti chizon pe dhyaan na de, Swara Bhasker se mehenga Dainik Bhasker bikta hai."
This post was screenshot by the Veere Di Wedding actress and shared on her Twitter account. She replied to the same by writing, "अगली बार role offer करने और आपकी फ़िल्म के trailer को share करने की request वाले messages भेजने के पहले आप भी 'सस्ती हरकतों' के बारे में थोड़ा सोच लेना! 🙂 Good luck @writerraj sir!"
Check out the tweet below: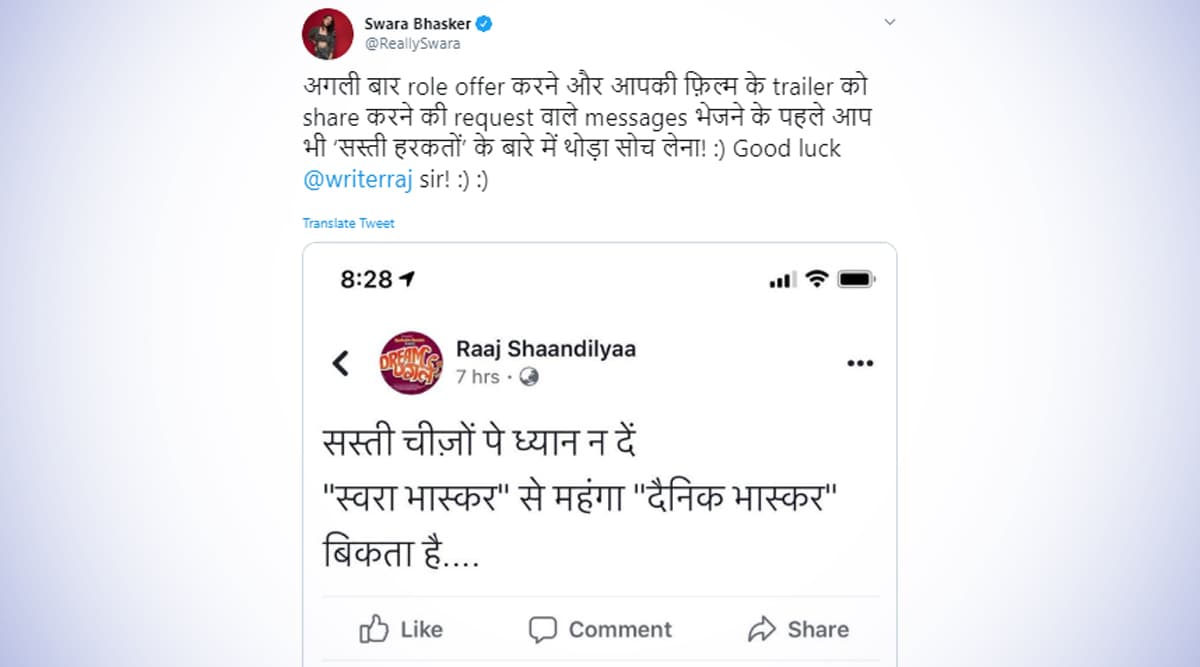 Raaj reacted back by apologizing to the actor. Check out the tweet:
मेरी बात से यदि आपको ठीक नहीं लगी तो दिल से माफ़ी लेकिन एक गुज़ारिश आपसे भी है की आप भी किसीके बारे में कुछ बोलने से पहले सोचा करें चाहे वो देश हो लोग हों या फिर कोई व्यक्ति विशेष…रही बात मेरी तो अगली बार role ऑफर ज़रूर करूँगा क्यूंकि मुझे आपके एक्टर होने पे कोई आपत्ति नहीं… https://t.co/ml95Y0bVPY

— Raaj Shaandilyaa (@writerraj) January 7, 2020
Not only this, but Swara has also bashed filmmaker Ashoke Pandit who termed her as 'urban naxal' and accused her of abusing police. She replied saying, "Yes sir! The job of the police is to protect unarmed citizens not protect armed goons. If the police beats unarmed protesters for 'revenge' and silently watches goons go on a rampage toh sawaal aur shikaayat toh karengey hi na hum. Pretty basic logic. Hate less, use ur brain more."
Celebs like Taapsee Pannu, Zoya Akhtar, Reema Kagti, Richa Chadha, Dia Mirza, Sayani Gupta, Gauahar Khan, Vishal Bharadwaj, Anurag Kashyap, Anubhav Sinha, Swanand Kirkire, Hansal Mehta, Rahul Bose etc were seen conducting a peaceful protest.
Swara Bhasker heavily trolled over insensitive comments on a four-year-old kid for calling her Aunty