Set of photographs showing Shiv Sena leaders Uddhav Thackeray and Aditya Thackeray offering a chaddar at Ajmer dargah has been doing rounds on social media.
The photos are being shared with a caption, "Aditya Thackeray reaches Khwaja's darbar. Wish of having a Shiv Sena CM has been fulfilled. For a party that swears by Hindutva, it has been enriched by a visit to the Ajmer darbar."
Check out the post:
Several Facebook users have posted these photographs along with the identical message. It is being claimed that the Thackeray family visited the Ajmer dargah after they succeeded in forming the government in Maharashtra along with NCP and Congress.
The same has been posted on Twitter
ख़्वाजा के दरबार में पोहचे आदित्य ठाकरे । शिवसेना का मुख्य मंत्री बनने की मांगी थी मन्नत जो हुई पूरी।
मेरा ख़्वाजा चाहें उसे नवाज़े । हिंदुत्व के मुद्दों पे अडग रहने वाली पार्टी को भी अजमेर दरबार मे बुला के झुका के सल्तनत का अमीर बनाया ।#Twitterपक्षपातीहै pic.twitter.com/gM5OVCsKID

— Sayyad Mohd Akhtar (@Akhtar087) November 28, 2019
The photos with the accompanying message have also been circulated on WhatsApp.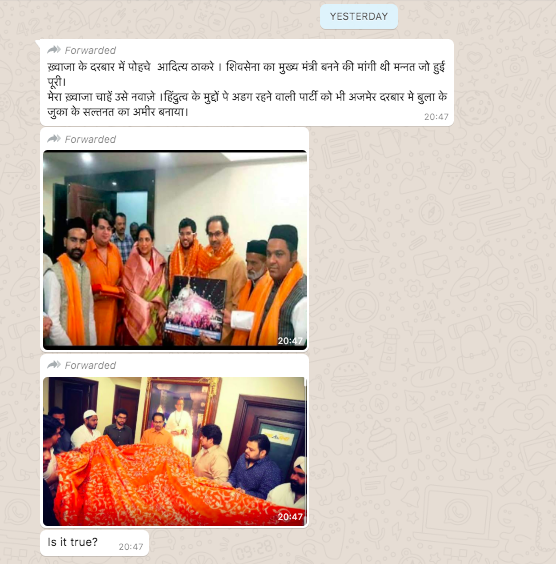 However, when a reverse check was done, it was found that the photographs in question are not recent and thus, do not pertain to any visit post the formation of the Shiv Sena-NCP-Congress government in Maharashtra. There are three photographs. Let us take a look at each.
Here's the truth behind the pictures:
Photo 1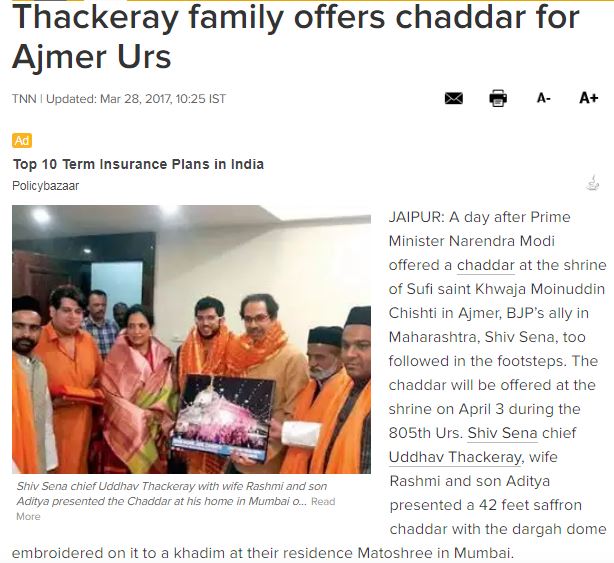 Photo 2
'
Photo 3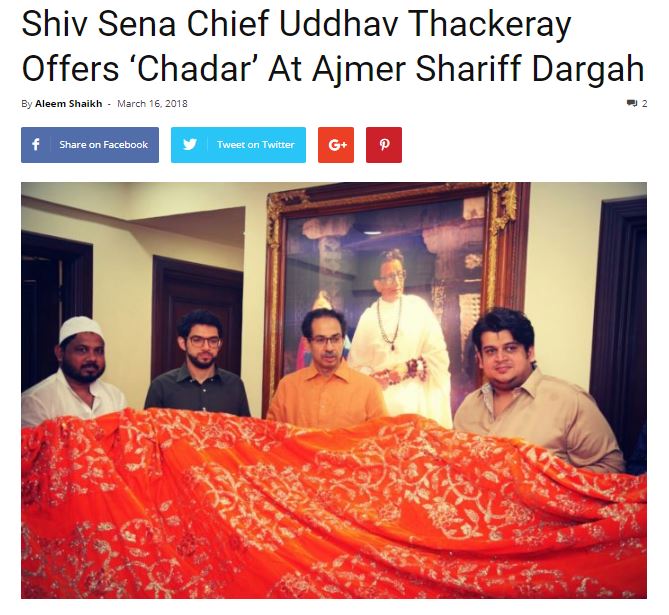 Final verdict:
In conclusion, none of the three photographs circulated on social media are recent i.e. taken after the formation of the government in Maharashtra. Two of the images are of 2018 whereas one image showing Aditya Thackeray wearing a turban was clicked in June this year.
The claim stands false.
Fact Check: Ahead of Ayodhya verdict, viral messages of WhatsApp chats and calls being recorded is FAKE