On her birthday, Ekta Kapoor had launched the poster of her new web series M.O.M- Mission over Mars. Ever since the poster of the web series was launched, there was a controversy sparked over the use of space rocket on the poster.
The poster features a Russian Soyuz launch vehicle along with the Indian flag whereas ISRO's Mars Orbiter Mission (MOM) which is also called Mangalyaan was launched aboard a Polar Satellite Launch Vehicle (PSLV) rocket C25.
When the netizens noticed the gaffe, they reacted to it by criticizing the makers for the lack of research into the subject before launching the poster.
Replying to a media report on netizens' reactions to the latest poster of her upcoming web series, Ekta Kapoor said "Cannot use the ISRO rocket !!! Legal boundaries! Check the statement and disclaimer below the post"!
Check post:
Cannot use d isro rocket !!! Legal boundaries! Check d statement n d disclaimer below d post! https://t.co/LveYQyhTr7

— Ekta Kapoor (@ektaravikapoor) June 12, 2019

The tweet came after social media users pointed out the use of "wrong" rocket in the poster. Apparently, Ekta Kapoor had added a note along with the poster in an earlier tweet.
Check post:
Thankyou very much 4 all d birthday wishes 💐
I am in a low network area & is difficult 2 respond to each one of you but I will do so once m back 🙏 #MissionOverMars streaming soon on @altbalaji #ALTBalajiOrginal #ShobhaKapoor #MonaSingh #SakshiTanwar @Nnidhisin @PalomiGhosh pic.twitter.com/A1SEI3CIdY

— Ekta Kapoor (@ektaravikapoor) June 7, 2019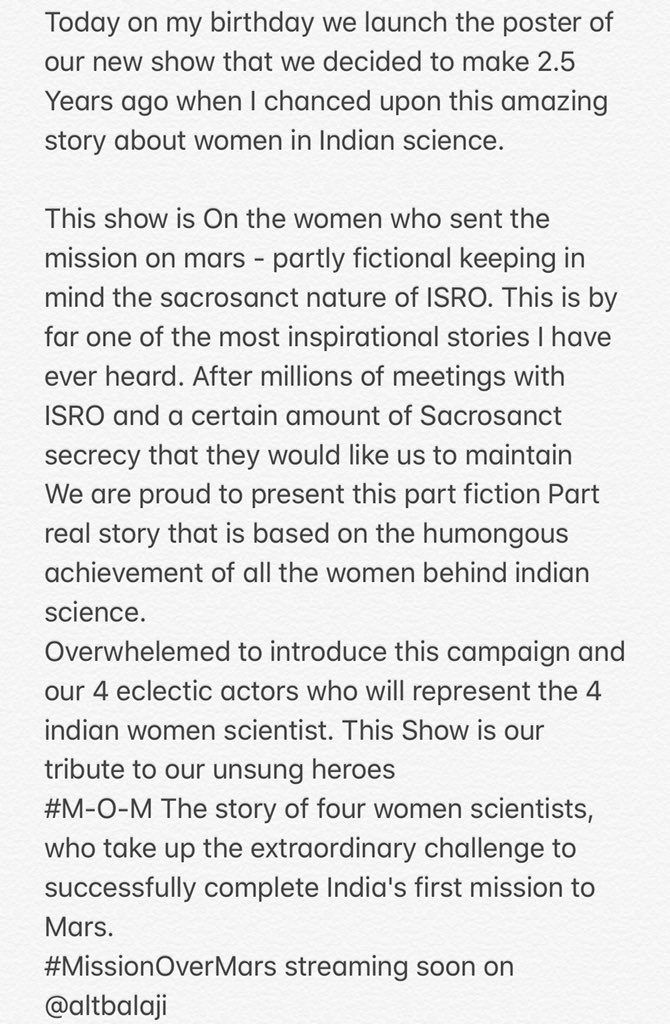 The story is about four women scientists who were involved in India's Mars Orbiter Mission launched in 2013. Actors Sakshi Tanwar, Mona Singh, Nidhi Singh, and Palomi Ghosh start in the ALTBalaji show.
Ekta Kapoor's new show 'Mission over Mars' poster features wrong rocket, Twitter reacts