Most popular game PUBG has made headlines for all the bad reasons. It has faced a lot of bad publicity because of its addictive nature. From getting people addicted to the government imposing a ban on the game that has taken life, the game is still widely played.
Apart from all the headlines in bad taste, this time something creative has been done in context to the game, a creative PUBG themed ad is surfacing on social media which hunts for a flatmate.
In a Facebook page called flat and Flatmates which is a page for all those looking for flats on rent without paying any brokerage charges in Delhi NCR. A guy posted a creative advertisement seeking a flatmate to join their gang.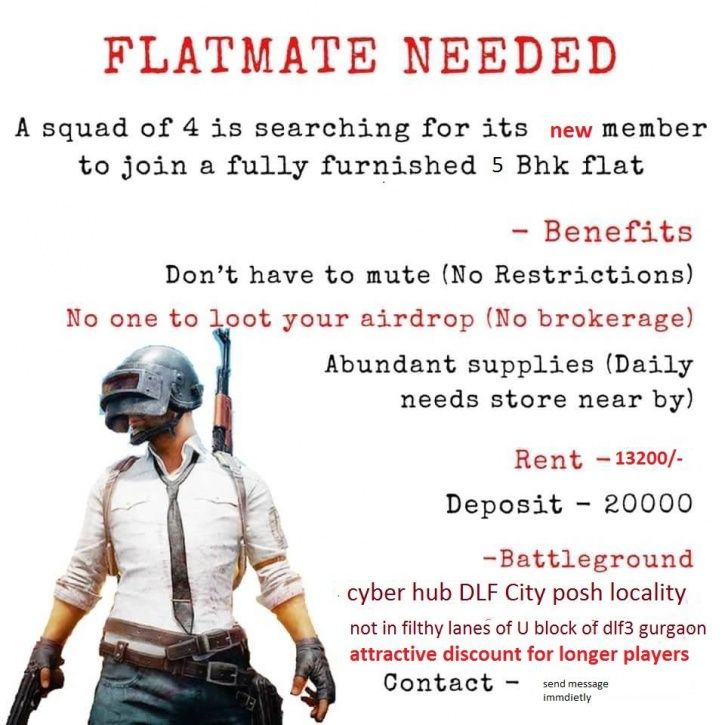 In the poster, the user refers to the locality as Battleground and says that there is 'no one loots their airdrops' and they 'don't have to mute'!
The PUBG gamers would surely understand the creativity of the ad and this guy proved his love for the game in the most creative way.
A user wrote 'Best post I have seen so far on Flat and Flatmates'; another wrote, 'this guy just nailed the PUBG fever'
We are sure he might be getting so many requests from people to join his squad.
Jawans turn into PUBG addicts, CRPF orders to delete game from mobile phones