Bigg Boss house is witnessing the weekly task and there are a lot of twists, turns and change in the equation to be witnessed following the task. Last night in Bigg Noss 13, we saw Dalljiet Kaur throwing Shehnaaz Gill's matki into the water as Paras Chhabra calls her out.
Paras tells Shehnaaz that Shefali is manipulating her which leaves the latter furious. Mahira joins the conversation and lashes out for being a two-faced person. Paras clear why he chose Dalljiet over any other girl. He says she could play fairly. Shefali tries to clear Paras' misunderstanding.
Arti Singh questions why did he get angry so much. She questions why did he fight with Rashami so much. Siddharth says she was instigating Sana and others. Later at night, Paras comes to talk to Arti. She says Shehnaaz is hurt. He says if he constantly ays attention to Sana everyone will ditch him and turn against him.
Day 11 dawns with Tum Hi Din Chadhe Tum Hi Din Dhale from cocktail and celebs dancing their heart out. At 9:00 am, Siddhartha and Shefali discuss the Rani Number one task. Shefali says that she wants to throw Mahira's matki. Paras and Mahira have a heart to heart chat. He talks about Shehnaaz. He says he plays a fair game. Paras says she has a chance of becoming a queen.
Shehnaaz says she wants Devoleena or Aarti as the queen. Siddharth agrees with her. Koena discusses the strategy with Paras. He later chats with Arti. He says he will throw Koena's matki. Paras is disheartened that Arti doesn't believe him. They have a playful fight. Aarti reveals to Shehnaaz that she will break Koena's matki. Shehnaaz says nobody wants to take a panga with Koena. Arti says that Koena patches up with people right before nominations. Shehnaaz playfully requests and begs to Siddharth to take her out. She flirts with Tiger's picture on the wall.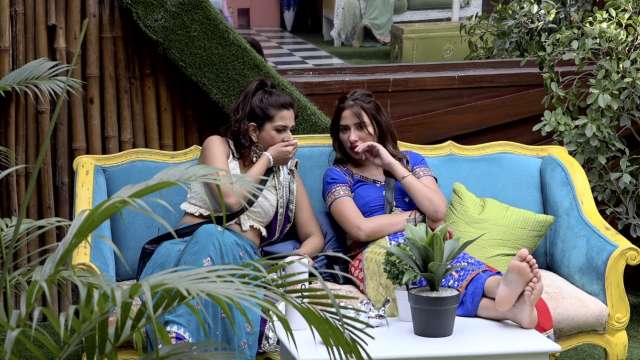 The drums beat and Siddharth takes Shehnaaz out. She takes Mahira's matki and says she is trying to get ahead by forging fake connections. Paras jumps into the water. Mahira and Shehnaaz have a spat. Paras says Shefali had said Shehnaaz won't throw Mahira's matki. Shefali says he fought last night, she can play her game. Paras and Shehnaaz fight. Mahira and Dalljiet talk about the recent happenings. Shehnaaz hears it and Dalljiet clears her misunderstanding. She says she was okay with their friendship. Mahira and Shehnaaz fight again. Paras calms Mahira down.
Drums roll and Asim takes Aarti out. She throws Koena's matki giving her reason that she plays the game right before nominations. Koena asks Siddhartha about Arti's words. Arti and Koena fight. Koena calls her liar and that she begs to not be nominated. Arti lashes out at her. Mahira says she would throw with Rashami's matki. Rashami is angry with Arti. Drums roll and Siddharth takes Shehnaaz out again. This time she throws Rashami's matki into the water. She says that she cannot underestimate her and belittle her. Rashami says she will throw Arti's matki.
Siddhartha Dey takes the key with the Drum rolls next. He gives a small speech. He delivers Shah Rukh's dialogue with a twist. He gives her a flower but takes Rashami out. Shefali tells Paras that she knew Siddhartha's game and that he didn't want her to become bad again. villain again. Rashami throws Arti's matki into the water. She reasons that Arti is misjudging her. Rashami discusses Siddharth and Arti with Shehnaaz.
Drums roll again and Abu and the boys stage a fight sequence. He takes Devoleena out. Devoleena throws Dalljiet's matki into the water. She reasons that she is playing a soft game. With that, the Rani Number one task ends. Devoleena is elected as Rani number one. Devoleena is assigned tasks as the new Queen of the house.
Bigg Boss 13 Preview: Sidharth Shukla and Siddhartha Dey gets into verbal spat over breakfast