Actors who are interested in politics and from time to time share their views on social media. Bollywood director Anubhav Sinha also shares his views on politics many times on social media.
Recently, he tweeted about Congress Jyotiraditya Scindia who joined BJP. This tweet in Lockdown caught the attention of people.
Anubhav Sinha wrote by tweeting on Jyotiraditya Scindia, wrote, I am sure that Jyotiraditya Scindia is now serving the people of the state all over. These fucking news people are not telling. On this tweet, everyone is giving their reactions to the common people.
I am convinced ज्योतिरादित्य सिंदिया जी अब प्रदेश के लोगों की जी भर के सेवा कर रहे हैं। ये कमबख़्त समाचार वाले बता नहीं रहे।

— Anubhav Sinha (@anubhavsinha) April 13, 2020
Commenting on this tweet, Bollywood filmmaker Hansal Mehta wrote, All of Maharashtra is busy praising the Chief Minister of Maharashtra.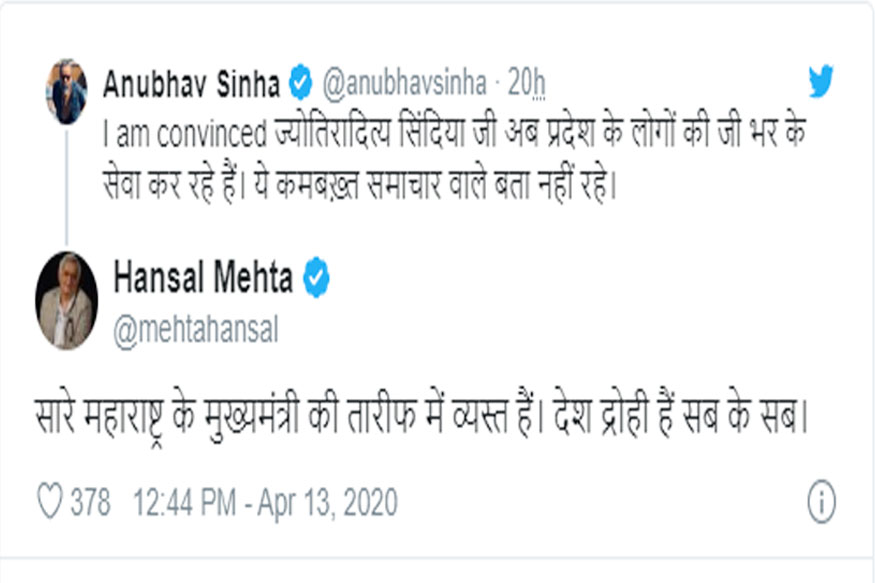 Even earlier, Anubhav Sinha had said strongly about Jyotiraditya Scindia quitting Congress and said that elections should be stopped in the country and IPL auction should be started.
For the uninitiated, recently, there was a stir in the power of Madhya Pradesh when 22 Congress MLAs of his supporters also resigned after senior Congress leader and former Union Minister Jyotiraditya Scindia resigned from the primary membership of the party after spending 18 years in Congress.
After joining the Congress, he shook hands with the BJP. Kamal Nath had to leave the CM after not agreeing to this honor and after several days and Shivraj Singh Chauhan became the Chief Minister once again in the state.
Uttar Pradesh: 3-month-old tests positive for coronavirus in Basti district