The University of Delhi has opened the DU mock test windows for Regular, SOL and NCWEB students of both UG and PG programmes at du.ac.in.
Students who have filled the examination form of Delhi University and are appearing for the open book examinations can visit the DU student portal and practice the mock test to get an idea about the procedures of the open book exams.
As the registration for OBE (Open Book Examination) begins today and students head towards solving mock test papers, they have been dealing with some extreme issues on the official DU website.
A final year student from Delhi University quotes some issues which she faced while getting through the mock test exams.
Here are some of the issues faced:
The website crashing, the student details are missing, incorrect papers. All subjects papers have not been uploaded while the university claims that this is just for the students to understand the procedure.
Students complain of changing paper pattern, question types. Mock tests not available to those who're supposed to go to CSC Centers.
Students also complained of answer sheets' limit is 5mb. They raised a question of how to compress answer sheets in the given limit as each question carries heavy weightage.
Not only this but the registrations from the Open Book Examinations also began from today and students faced disastrous issues while registering from the exams.
A final student from Delhi University was quoted as saying, "Those who have wifi are not facing such issues. My registration is done because of wifi. This means DU website needs good wifi to register or to download anything which is not available in every area."
The furious students also took their grievances to Twitter and called out the university for not being prepared enough.
Here are some of the tweets:
Master stroke by DU- upload all Incorrect mock papers twice. Lovely #DUAgainstOnlineExams #scrapOBE @TimesNow @timesofindia @htTweets @DrRPNishank @HRDMinistry @the_hindu pic.twitter.com/WdXtBLA8b5

— whats kept in a name (@anarqueeeeen) July 4, 2020
There is mock tests of M.A pol.sci final year students.
questions paper given for mock test 6th sem of B.A progm & 3rd year of IR.
Then how should we prepare for the exam.
This is ridiculous
DU why are uh doing this ?#DUAgainstOnlineExams #ScrapOBE @DrRPNishank pic.twitter.com/1OolkNsQ0z

— Abhijeet S.Chaudhary (@Abhijeet_Du) July 4, 2020
Even after typing right details, this kept showing. I got extremely worried but turns out no one can login now as SITE CRASHED. @ugc_india no matter what my university says, DU doesn't have the IT infra to conduct this exam. Please listen to stakeholders. #DUAgainstOnlineExams pic.twitter.com/nhMfvCQCPU

— Meha Rawat (@rawat_meha) July 4, 2020
Being a student of bcom(h) why is the mock test showing me questions of other courses?#DUAgainstOnlineExams#DUAgainstOnlineExams

— Bharti Tribal ? (@FOUNDERofMMES) July 4, 2020
For context : DU apparantly conducted 'Mock tests' for us today and pasted random past papers of subjects we don't even HAVE THIS SEMESTER!!!#DUAgainstOnlineExams #ScrapOBE#studentunityzindabad https://t.co/V4mOIyG3XO

— semd amd hormny (@buttmomoslut) July 4, 2020
Delhi University got so much CHILL! 4th sem mock test paper for 6th sem students, why? To make them understand the process of uploading and downloading files?#ScrapOBE #DUAgainstOnlineExams #DuagainstOB #duexams #DU

— Sandhya.Upadhyaya (@Sandhya66575933) July 4, 2020
Some final year students also shared screenshots of the problems they are facing. Have a look: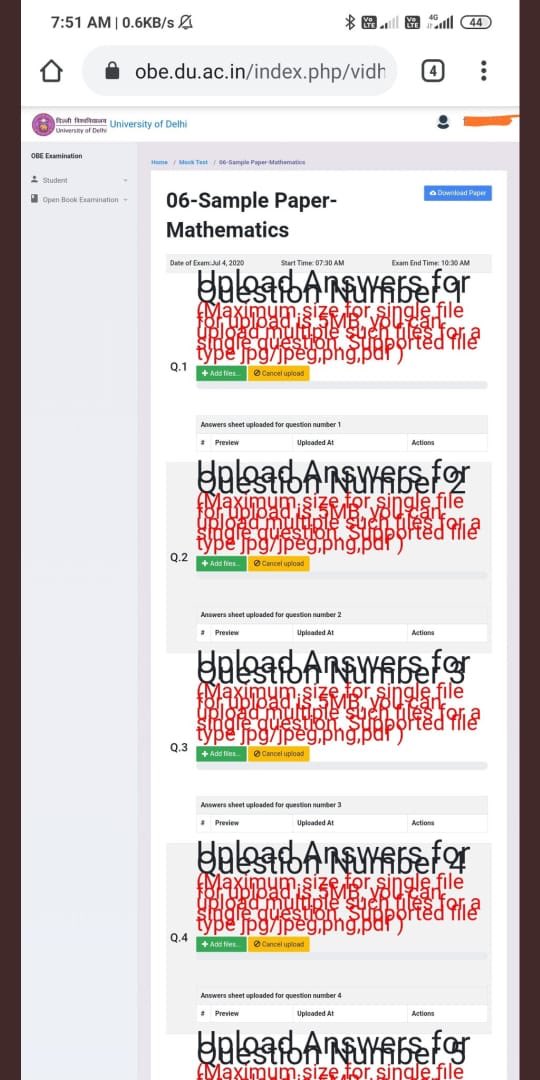 However, the students are constantly complaining about the issues on social media. Also, they wrote about the grievances to the Vice-Chancellor but they have not received any response from their side.
For those unaware, DU students have been asking the university to not to conduct Open Book Examination due to various reasons but the examinations are slated to be held from July 10.
Delhi University students file petition to cancel online exams, trends #DUAgainstOnlineExams on twitter