Ever since the coronavirus lockdown, the sale of onions have been affected. Onion farmers in Saurashtra, the hub of onion farming, have been stuck with large quantities of onions since harvesting began a month ago.
As per Ahemdabad Mirror report, no sale of onions has left the farmers worried with huge stock of onions lying in their fields. However, the Congress has come to their rescue by buying a huge quantity of the onions and distributing it for free among the poor.
According to Pratap Khishtariya, a farmer in Porbandar, onion is produced mainly in a few regions. The red onion is produced around Porbandar, while Bhavnagar and Mahuva farmers produce white globes. Farmers around Upleta, Jamjodhpur produce white and yellow onions. Onion sowing began in mid-November, and 15 days ago, we started getting the yield. However, there is no labour, APMCs are closed most of the days and there are no buyers.
"I have a stock of 6,000 'mann' (1,200 quintals; one mann is equal to 20 kg) of red onion lying in my farm right now," said Khishtariya.
Jivan Kantariya, a trader at Gondal APMC, said, "Firstly, there are no labourers available. So even if we buy the stock, there is no one to load, unload or deliver it. Since the police do not allow traders or labourers to step out, there is no movement of stock. If we do buy the stock, there are a very few retailers willing to buy it. Because of the lockdown, most of the shops are closed. Very few retailers are able to get through the police and reach APMC. The APMC should be given authority to issue passes to farmers, labourers, traders and resellers."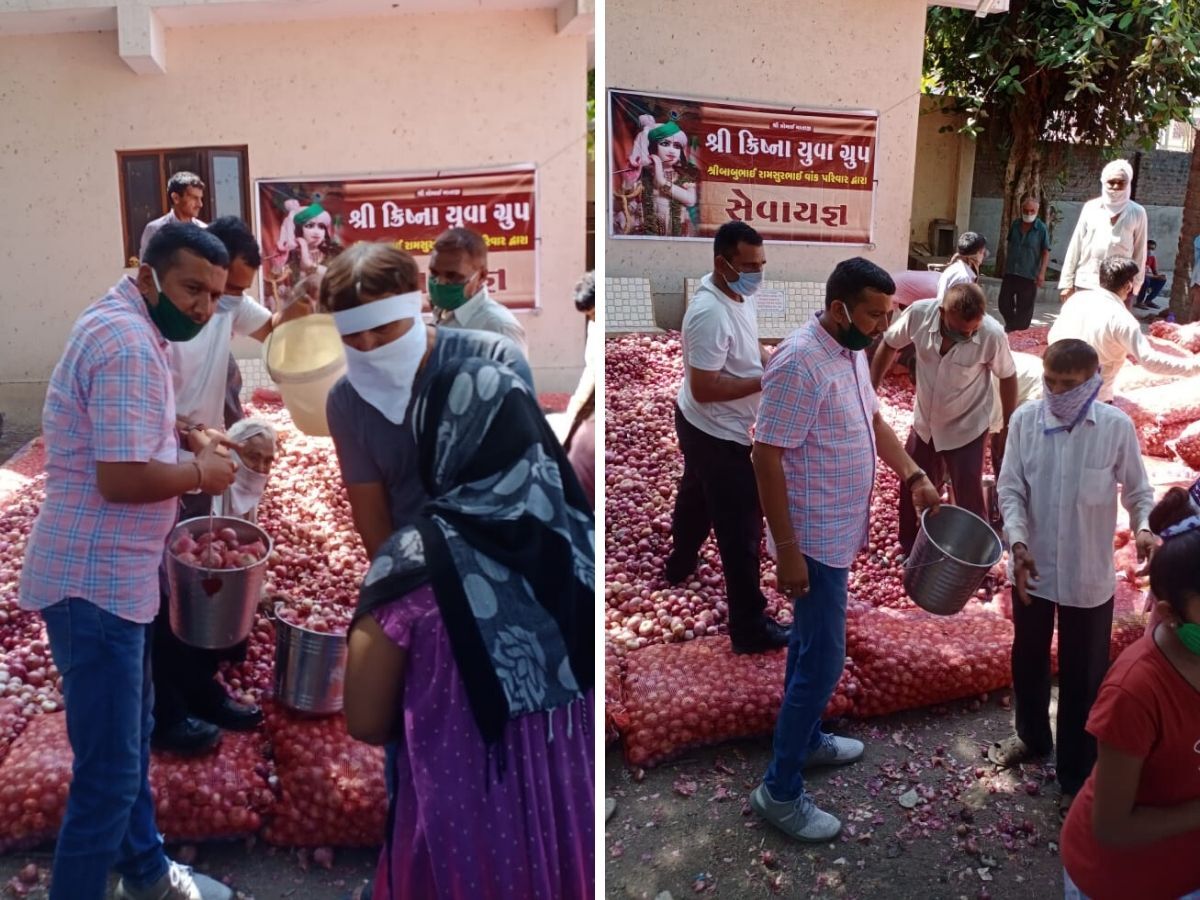 Rajkot Congress leader Viral Bhatt said that the Congress had begun distributing onions to families on Monday. The Congress has bought around 24,000 kg of onions from the farmers.
According to Viral, "On one hand farmers are not able to sell onions, while on the other, onions are sold for over Rs 80 per kg in Rajkot. So, we decided to buy it in bulk and distribute it to families."
COVID-19 in Gujarat: BJP MLA spits in government-run kitchen for poor in Rajkot