The southern state of Karnataka set to celebrate Kannada Rajyotsava or Karnataka Foundation Day on November 1. Kannada Rajyotsava is one of the biggest celebrations in the state and is celebrated with much pomp and fervor.
It is the day when all the people in Karnataka come together to commemorate the formation of the state of Karnataka.
History and Significance of Kannada Rajyotsava
With the passing of the State Reorganisation Act, the State of Mysore was founded on November 1, 1956. It was the day when all Kannada speaking regions were merged together giving birth to the state of Mysore. However, the name was not accepted by some regions and after a prolonged discussion, it was again renamed on November 1, 1973.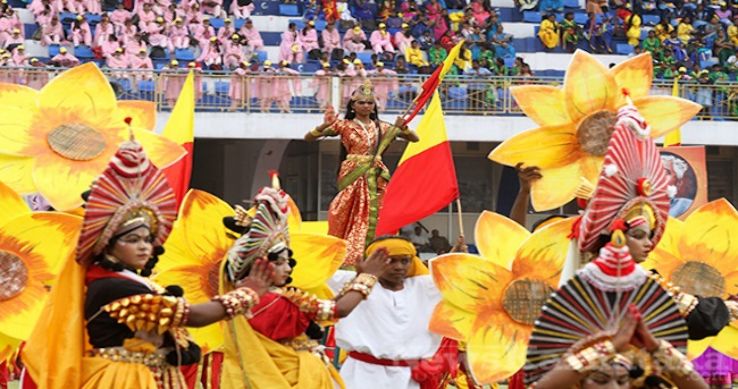 Celebration of Kannada Rajyotsava
The celebration of the day starts with the presentation of the honors list for Rajyotsava Awards by the Government of Karnataka, hoisting of the official Karnataka flag and a speech by the Chief Minister and Governor of the state.
The entire state of Karnataka wears a festive look during Rajyotsava day, with red and yellow Kannada flags decorating streets, houses and institutions. The state flag is also hoisted at offices of political parties and various localities. Since it is not a religious festival, the day is celebrated by Hindus, Muslims, and Christians as well.
In Karnataka, November 1 is a public holiday, so the celebrations at commercial establishments take place in the following days of the week. Kannada flags are prominently hoisted and displayed at almost all office and business establishments across the city.