When Maaya – a Bangalore resident, decided to sell something online, little did she know it would turn out to be a hectic attempt. Maaya, who is a Yoga instructor wanted to sell beds online, for she was in the process of vacating her apartment. She put up an ad for the same on OLX India – a global online marketplace.
Following this, a person pinged her and "asked for a few basic details about the item and agreed to buy after nominal bargaining." The alleged fraudster under the veil of a prospective buyer went on to then ask "if he could transfer half of the amount right away" and that if she is "okay with PhonePe or Google Pay." After Maaya told him she is fine with both, in no time her phone buzzed with his call.
What a scam I came across today!
I was trying to sell something on Olx. A person pinged, asked for few basic details about the item and agreed to buy after nominal bargaining. He asked me if he could transfer half of the amount right away and if I am okay with PhonePe or.. (1/n)

— Maaya (@mohmaaya) May 26, 2019
The scamster involved Maaya in a conversation, discussing the item and the location they were supposed to perform the deal at, he further said he has sent her a "request on PhonePe for the advance amount." An engrossed in conversation Maaya – who is also a former IT company employee, received a pop-up from PhonePe, which had a rather ambiguous message appended to it by the sender, "You received money bank transfer pay now click here in your bank account transfer successful." The request made by one Niladri was instead for asking money.
According to Maaya, the fraudster while still on the call with her casually asked her to approve the request. "Thankfully, I was alert enough to read the popups and sms properly. The request was to receive the amount, a transaction from me to him. I told him, the request you sent is to receive money from me, not a transfer to me," she wrote in a series of tweets.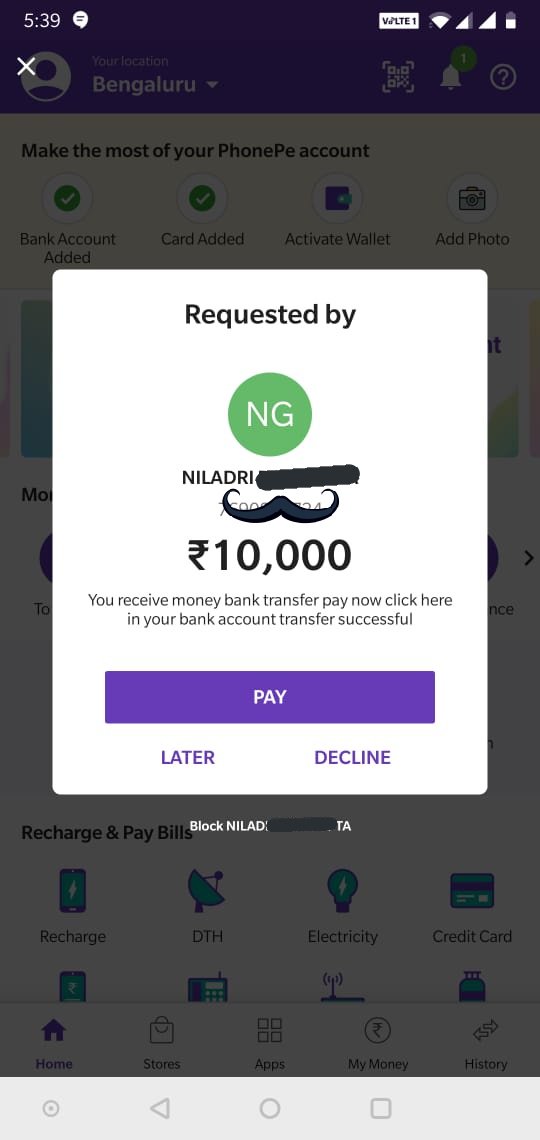 I was amazed at the smartness. Keeping me engaged on the call, so I would not pay attention and just click the button in hurry to receive amount from a buyer who didn't really bargain.
I thought I should let everyone know so they wouldn't fall prey to this. (end)

— Maaya (@mohmaaya) May 26, 2019

The accused further claimed, "he is using his business account and that's the only option he is seeing". After Maaya asked him to try performing the transaction once again, he declined the request and disappeared with no further calls or any money he promised for the purchase.
When Newsd asked Maaya if she has reached out to OLX or PhonePe she said, "OLX sent a message requesting me to write an email to them with a lot of information. I replied that I have given you the number, that should be sufficient. But they are asking me to write a mail to them with attaching many proofs."
"It's like people don't help an accident victim because the police will take them to the station and waste their time. I didn't lose any money because of being alert, so why would I take so much trouble. I did my bit by informing everyone," she further added.
With regards to PhonePe, she said, "As you can see below my tweets, PhonePe is trying to defend the app incessantly. What I and other users suggested to them is to modify their UI in a way that it would be explicit to people that this is going to be deducted from their account. Also, the text from the other person looks like an app notification. They should highlight it that it is a note from the recipient of the money. But they have not really agreed to do these changes."
When we asked her if she has filed a complaint at a police station or cyber cell, she replied, "No.. Because I didn't lose any money. Apparently many people lost their money, up to 70K and still, their cases are pending with cyber crime cell."
Citing examples from the responses she received in her Twitter thread, Maaya told Newsd, "Even after so many complaints, these apps just say that it is not a single click process, you also need to put OTP. But I am telling them to consider every type of user, like senior citizens or small town people who are not very familiar with these apps. These apps can really change UI in a way that the user will be more alert."
We reached out to PhonePe and OLX to know more about the case and posed a series of queries.
Anuj Bhansali, who is Head, Fraud and Risk at PhonePe, responded to our questions
Newsd: Has any step yet been taken against the accused user till now? According to the Twitter user, PhonePe has blocked the accused, could you tell us what it means and what is the company's usual course of action in such a situation?
Anuj Bhansali: In this specific case, we investigated and blocked the user. We have very strong risk and fraud processes and an internal investigation team which takes action against such fraudulent accounts.
Newsd: How many cases of fraudulent transactions do you receive on a daily or monthly basis?
Anuj Bhansali: This data is confidential and we cannot share it.
Newsd: Various Twitter users have pointed out to the UI being confusing to a budding internet user, do you think any changes in the interface could make the app safer? Users have suggested, including a specific icon to signify that someone has asked for the transaction.
Anuj Bhansali: We welcome user feedback on making our app, even more, user-friendly and secure. We have developed highly advanced algorithms and systems which warn users whenever a suspicious activity is detected. For instance, users see a pop-up when any unknown user requests them for money. For us ease of use and user security is paramount and we will continue to take similar proactive steps.
Newsd: What safeguards have PhonePe put in place to keep nefarious elements at bay?
Anuj Bhansali: PhonePe has a very robust risk and fraud system. We have among the best engineering and data science teams which have helped us build models based on any suspicious activity or patterns which we spot. We also invest a lot of time and effort in user education through our blogs and social media handles to ensure that users are aware of different types of frauds.
Newsd: What are PhonePe's suggestions to internet users, what key steps can they take to ensure safe transactions?
Anuj Bhansali: Here are some suggestions:
Please do not enter your PIN number or any other details to receive money.

Do not share your login details and passwords with anyone.

Always reach out to official twitter handle or customer support numbers mentioned on the company website in case you need help.
We sent out a similar set of queries to OLX India. While the company did not give us a question-wise response regarding the case details, Lavanya Chandan, General Counsel, OLX India shared information regarding how the company is detecting the fraudsters and the usual course of action they follow thereafter.
Ms Chandan told Newsd, "Trust and safety of our users are extremely important to us at OLX. For the same, we have taken multiple steps in combating fraudsters on our platform."
Regarding the verification process, Ms Chandan said, "We realised that faulty products and frauds have crept on to the platform. When you place an ad on the platform, the first leg of check happens at the technical filter level. Of the total listings we receive each day, almost 25% of ads are rejected since they fall under the restricted categories such as Arms, ammunition or other illegal goods or they have attributes which have a high fraud propensity. Out of the ads that go live, we have a team of site auditors who scan for any suspicious trends such as listings emerging from foreign locations across different categories such as Mobiles, Cars etc."
"Another leg of verification happens when a user posts an ad"
We send the user an OTP on the phone number which gives us a unique identifier attached to the person which authenticates the user. This allows us to track down the user easily and share information with the authorities in case of any untoward incidents."
"We have a dedicated trust and safety helpline number and a team in place, where people can reach out to us directly via a call or email and report such incidents. When the user reports such a case, we identify the fraudster and using our platform scan for various information points. We check if the person has posted multiple ads with the same phone number, if the person has other phone numbers linked to other ads, has other such transactions on OLX  or has contacted other sellers. Immediately, we send notifications to sellers/buyers who have interacted with the fraudster and if he is using different phone numbers then we also send a communication to those numbers. Our entire objective behind this to prevent people from getting defrauded."
"Lack of location information of people who use the platforms sometimes presents a challenge to us"
"Fraudsters are using mobile apps with their locations switched off, or through the mobile site or browser often limits our ability to identify their real locations. Having said that, some of the rich information we have in form of IP address, phone number, email, etc. which we do provide to the police does assist them to identify the location and attributes of the fraudsters through the network providers."
"In terms of user education, we have taken multiple steps to educate the users throughout the entire user lifecycle"
"As soon as users log on to OLX they can see notifications tips on keeping themselves safe on OLX. We regularly educate users around issues such as not making an advance payment,  not travelling to far off places to buy or sell anything, checking the product thoroughly when they make a purchase and so on. We also run a user awareness campaign on social media called WebAware with The idea is to educate users not only to stay safe on OLX but also on the internet in general."
"We have also created a dedicated trust and safety helpline for law enforcement for quick redressal. Anytime we get a query from any law enforcement across India, we respond via call or email quickly so that we can prevent that fraudster from defrauding other people."
"We are also testing technology that will predict and warn the users of potential frauds by using a fraud analytics system."
"This will allow us to anticipate any fraudsters and control their existence on OLX.  We have also been internally testing a system where users can rate other sellers on OLX based on their experiences."
"We view OLX's role in connection with cyber-crimes as threefold."
One, to prevent fraudsters from entering the platform which we do through our robust technology filters and site auditors.

Second, in educating users on how to transact safely on the platform – we do this by investing heavily both in-platform education and through social media channels.

And finally, it is important for OLX to react to frauds that have taken place where our Trust and Safety helpline provides users with a great means to report frauds and for law enforcement agencies to expedite their information request to solve cases before them.
Ms Chandan told Newsd that in March, in order to counter fraud, the company introduced a major upgrade in its app and website. Features such as, "Pop up safety and security tips", "AI and ML enabled safety tips in real time chat" have been introduced.
Cyber Crime: Trusting a Google Ad costs huge money to a hospital worker over Google Pay