Karwa Chauth, a traditional festival celebrated with great enthusiasm among Hindu families is largely commemorated by married women.
The festival falls during the Krishna Paksha Chaturthi in the month of Kartik as per the Hindu calendar. Generally, women who are either married or those who are reaching the age of marriage observe a nirjala fast from sunrise to moonrise, for the safety and longevity of their husbands.
This fast is generally observed in the Northern regions of Uttar Pradesh, Rajasthan, Himachal Pradesh, Punjab, and Haryana.
Significance of Karwa Chauth
Origin of Karwa Chauth can be traced back to Mahabharat where Savitri begged the death of God 'Yamraja' to return her husband's soul. Following the footsteps of Savitri, women celebrate this festival of companionship with a lot of fervour and the preparation starts way ahead. The women wear bright and beautiful dresses and decorate mehndi designs on their hands. The fast is broken only after the moon rises.
Date, Puja, and Moonrise Timings
This year, the festival will be celebrated on October 17, which is a Thursday.
According to Drik Panchang, the Karwa Chauth puja muhurat is between 05.51 pm and 07.06 pm, and the Karwa Chauth upavasa time is between 06.23 am and 08.17 pm. The moonrise will be observed around 08.17 pm. 
---
---
Karwa Chauth Rituals
Married women, wake up early in the morning (at sunrise) to eat sargi. After eating sargi, women stay without water and food all day until they spot the moon. Before the moon sighting, a community ceremony is held for married women. Women adorn beautiful red sarees or lehengas and sit in a circle with their puja thalis. Stories of karwa chauth are narrated and various songs are sung.
On this day, women pray to Lord Shiva, Goddess Parvati, and Lord Kartik. Thereafter, women pray to the clay idols of Lord Shiva, Goddess Parvati, and Lord Kartik to seek blessings for their husbands and family.
All of them exchange karwas or clay pots seven times to complete the pheras. This is followed by offering foods like halwa, puri, mathri, meethi mathri or kheer to the deity. This puja can be done separately or in a group.
In the evening, women perform a puja, offer foods to the deities and pray for the safety and longevity of their husband.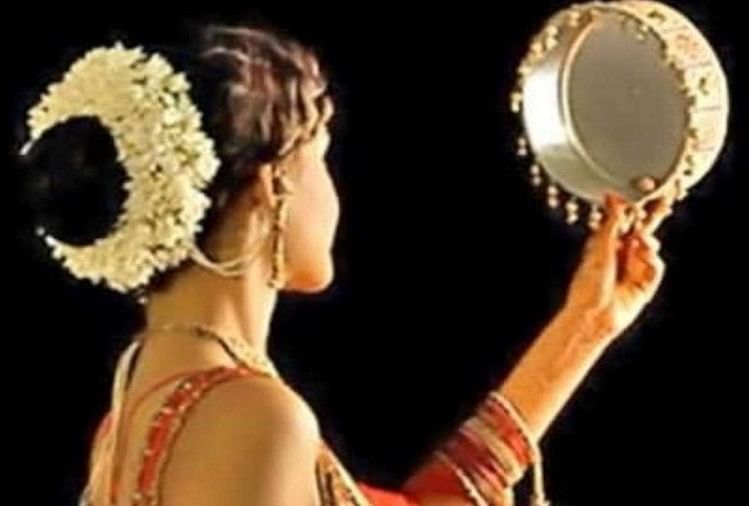 Once the moon is spotted, women look at the moon and their husbands through a sieve (chhanni) after which water is offered to the moon to seek its blessings as part of the Karwa Chauth rituals. Husbands then offer some water to their wives to break their fast.
Karwa Chauth 2019: Karwa Best Wishes, SMS, HD Wallpapers, Images and Greetings, Facebook & Whatsapp Messages, quotes, messages and wallpapers to send to your loved ones